Posts: 59329
Location: Hong Kong/China
Joined: Tue Feb 25, 2003 5:13 am

GREAT AMBITION for Jeremy.....

But UNFORTUNATELY it's USA !!!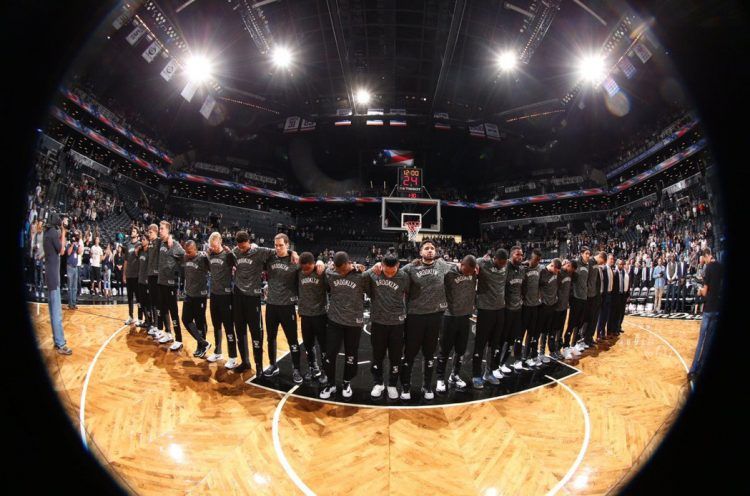 Quote:
http://www.espn.com/blog/new-york/brook ... thy-needed
Jeremy Lin: More compassion,
sympathy needed
Oct 7, 2016
Mike Mazzeo
ESPN Staff Writer

NEW YORK -- Brooklyn Nets point guard Jeremy Lin explained the team's decision to put their arms around each other as a sign of solidarity during the playing of the national anthem prior to Thursday night's 101-94 preseason victory over the Detroit Pistons.

"I think we can all acknowledge that there is an issue at hand, but how you go about it is really what we tried to do: arms around each other, solidarity, doing it together," said Lin, who scored 21 points in his first exhibition game with his new team. "This isn't anti-cops. This country needs cops. This country isn't anti-minorities. This country needs minorities. This is what makes our nation great. We need both, and we need compassion and more sympathy where guys can really take the time to put themselves in someone else's shoes."

Players from several NBA teams have locked arms as a sign of unity in light of the social issues that have arisen in the United States. Lin says the Nets don't just want to show unity at games. They're in the process of figuring out how to act on it as a community. The team had discussions about what they were going to do Thursday night after their morning shootaround, he said.

"I think right now what we're seeing is -- it's not everywhere -- but there has been some division and increased hostility, and that to me is almost one step forward and two steps back. So again, it's about solidarity, and it's not lip service too," Lin said. "We as a team, [me] as a person, we as an organization want to be able to do things in the community going forward to be able to promote the same message. We want to actually do something more and be more proactive about it, which we're talking about internally."

Lin, who went undrafted out of Harvard and is of Asian descent, told ESPN.com recently that he wants to use his social media accounts as a platform to create change.



"I want to help shape the world and change the world,"

he said. "If all I can say after my career is over is I scored X points and had X amount of assists and won X amount of games, that to me would mean I didn't do everything I could. You see so many issues and so many people go through real things, and so when I have my social media I always want to impart certain values or share who I am as a person.



"And I think in a lot of ways I challenge certain stereotypes. I'm not your average NBA player. I'm not your average Asian or Asian American. I'm not your average Harvard student. I'm not your average anything. I'm very different in a lot of different ways, and so social media allows me to express my Christian values or challenge different stereotypes or philanthropy or just showing my personality, those are all ways for me to use my platform and do so in a beneficial way."